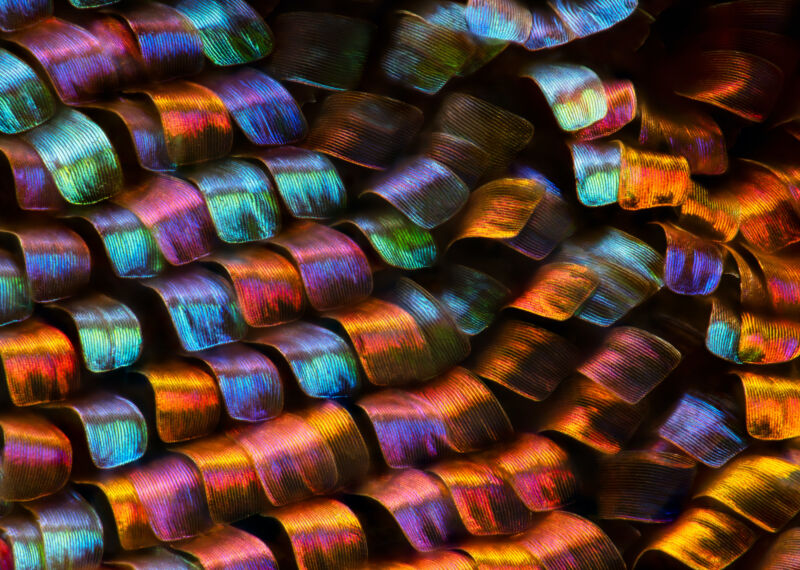 I don't know how many years I've been putting together image galleries of the Nikon Small World Microscopy contest, but it has been quite a few now, and it is hard not to feel like I'm repeating the same things when I introduce a selection of the images from it: that nature's beauty isn't limited to grand landscapes or charismatic megafauna. That serious science can co-exist with amazing aesthetics. That some of the best scientists also have an eye for the artistic and the desire to capture the worlds they study in compelling ways. That technology and software have revolutionized a technology—the microscope—that has been around for hundreds of years.
All of those things are still true, which is why I keep emphasizing them. But words are just a distraction from the pure artistry of this year's contest winners. So I'll shut up and let you enjoy them.
This is a chameleon embryo, which is late enough in development to look a lot like a mature chameleon. Note the loop behind its head is the tip of its tail.

This hallucinatory colorscape was produced by drying out a solution containing two amino acids, the building blocks of proteins.

Zooming in on an article of clothing can reveal unexpected complexity.

Showing the flag, this moth has a set of red, white, and blue body parts.

No, it's not a painting. This is just some crystallized chemicals showing off their colors.

The leg of a beetle is a remarkably complex structure for something so tiny.

Black and white images can be just as striking in the microscopic world, as demonstrated by this close-up of a fly.

This is a completely mineralized dinosaur bone that, despite its age and abuse, still preserves details of its cells.

This is what all the fuss is about: a colony of human stem cells.

In the day-to-day world, the whirligig beetle is an innocuous-looking swimming insect. At high magnification, it will leave you with nightmares.

While this may look like a set of iridescent satin ribbons, it's actually the scales on the wing of a butterfly.

The leaves of a growing moss plant, an image obtained by stacking multiple exposures made by a confocal microscope.

Fluorescent image of the still-forming skeleton of a bat embryo. Note that a developing wing covers the bat's face, something that seems to happen to all bats at this stage of development.

Here, a cluster of stem cells have been pushed to develop as a mix of nerves (red) and hair follicles.

While lots of these images show intact items, many biological samples are prepared as thin slices that allow researchers to see internal details. This slice goes through the brain and eyes of a dung beetle.

Feeling groovy? This is a close-up of an old vinyl record.

The larval stage of a small, flying insect called the phantom midge.

This is an internal organ from a fruit fly larva.

This may look like an extremely pretty object. Let me ruin that by informing you that it's the part of a tapeworm that allows it to remain firmly attached to your intestine.

In this sample, a single neuron (red) has developed in a field of blue stem cells.

This amazing pattern of crystals? It's just salt.

This cute-looking little water mite is, naturally, a parasite found in freshwater.

These are actin fibers, parts of a cell's internal skeleton. The different colors represent different depths in a three-dimensional sample.